Dormatec Aircleaners - information
More spindle hours and less downtime have been central themes in the pursuit of higher efficiency in machining production for years. More and more turning and milling machines are being automated for that reason and therefore 24 / 7 is being used.
Machining operations release aerosols that cause an unhealthy working environment and disrupt the process. This can be prevented with the use of mist and fog filters. Dormatec supplies Air Cleaners that ensure effective extraction and filtration of emulsion spray, oil spray, smoke and unpleasant odors released at lathes, milling machines and machining centers. The filters are equipped with a four-stage filtration whereby harmful emissions, substances and aerosols are effectively removed from the air (99,97%). Dormatec Air Cleaners also provide further heat removal and thereby contribute to a more stable process.
Cleaning the Aircleaners
The Dormatec Aircleaners are easy to clean yourself. Follow the instructions provided or watch the video below.
Brief introduction to the operation of oil mist filtration:
Advantages of Dormatec Aircleaners: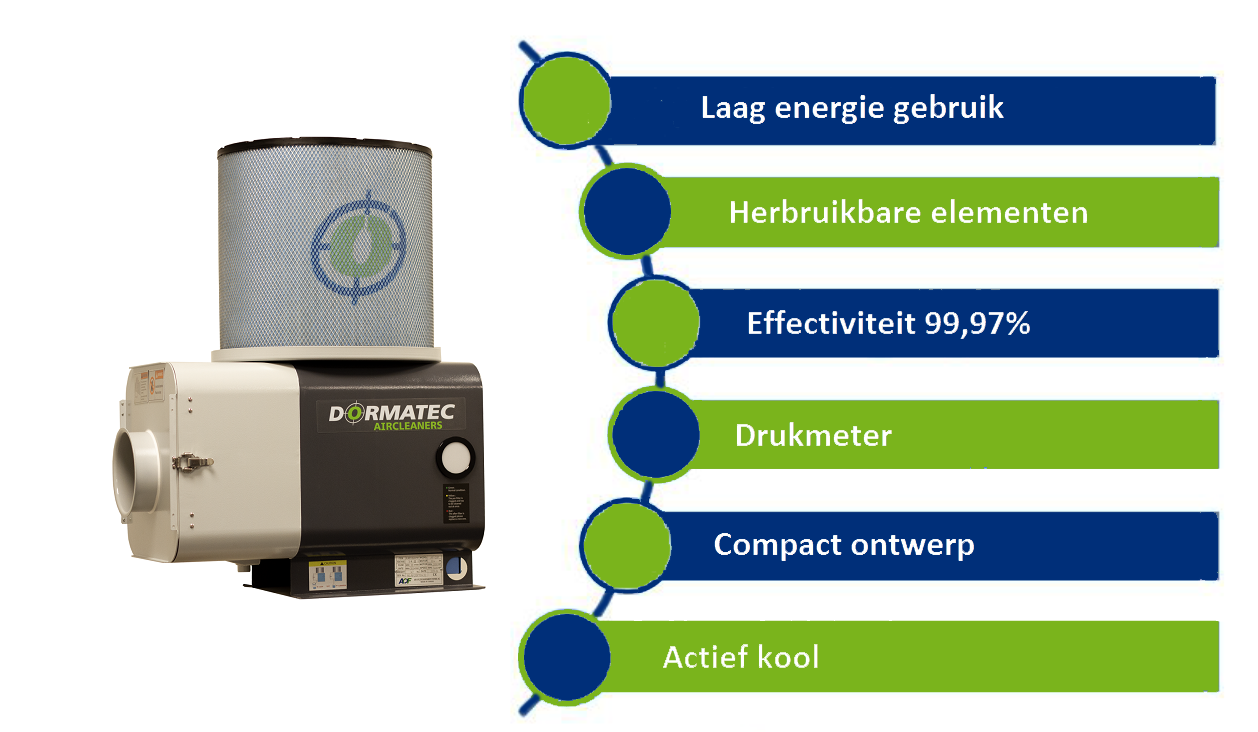 Four-stage filtration

Technical specifications Oil Mist Filters
| Unit | Motor | Air flow | Noise level | Filter effect | Weight |
| --- | --- | --- | --- | --- | --- |
| AF-10P | 0.2 kW | 11m3/ Min | 65 dB | 99.97% | 42 kg |
| AF-20P | 0.4 kW | 18m3/ Min | 69 dB | 99.97% | 47 kg |
| AF-30P | 0.75 kW | 29 m3/ Min | 70 dB | 99.97% | 65 kg |
| AF-40PL | 1.15 kW | 40m3/ Min | 71 dB | 99.97% | 80 kg |